Port Ventura Harbor in Ventura, Calif., has started leasing 56 of its 270 apartments in a mixed-use community inspired by the new urbanism practices used in Seaside, Fla., and Santana Row near San Jose, Calif. The 27-acre community that fronts Ventura Harbor and the Pacific Ocean will eventually offer 270 apartment homes, 30 live/work units, and 22,000 square feet of retail. The new development is laid out around a large public plaza that provides access to amenities that include a swimming pool, a spa, tennis courts, and a pet park.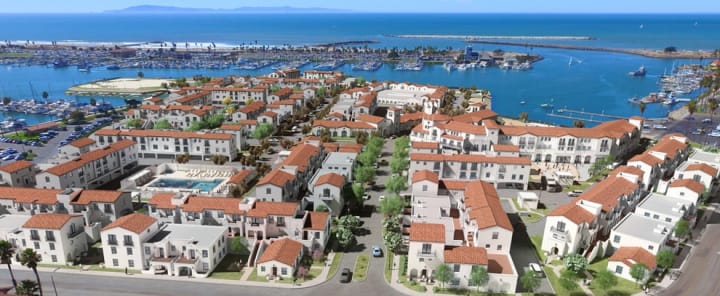 The new community will add lifestyle housing to a tourist-friendly city that is located about 70 miles northwest of downtown Los Angeles. The plans for the new development are built around walkable streets that put housing, public spaces, and shopping in close proximity. The community offers a new wrinkle in an area where building anything near the water presents a formidable challenge. 
"While both the city and county of Ventura wanted much-needed housing, we were very much aware of the near impossibility of developing new residential on the coast of California," said Michael Sondermann, manager of Ventura-based Portside Partners Ventura Harbor, LLC. "We were tasked with creating a new neighborhood that would fit seamlessly into the city of Ventura while stimulating growth as the new centerpiece of the Harbor Village area. The problem was that the site, which had been left fallow for decades, was located right on the water. The Harbor Commission and the City of Ventura worked tirelessly with us, and their patience and persistence helped us accomplish what no one thought could be done."
The Mission Colonial architecture of Portside Ventura Harbor was designed byTogawa Smith Martin, with a very low-density ratio of 11 units per acre. All of Portside Ventura Harbor's units face the street. The unit mix includes studio, one-, two-, and three-bedroom apartment homes and live/work units that average over 1,000 square feet, with 10% of the units set aside for low- and moderate-income earners.
Portside Ventura Harbor also includes the first new marina built in the area in more than 30 years. The marina will provide 104 boat slips to accommodate vessels up to 80 feet, as well as a 90-foot public paddleboard dock. The developers have engaged family-owned E&S Ring Management Corp. to oversee residential leasing and the Ventura County office of CBRE to oversee the retail leasing.