Port Ventura Harbor has officially debuted its first apartment units. The mixed-use project is the largest waterfront development in Ventura and is on the last remaining development site in the port district. As such, it is highly anticipated. While the project will officially open in April 2020, the developer has delivered the first 56 units and the  first residents have already moved in.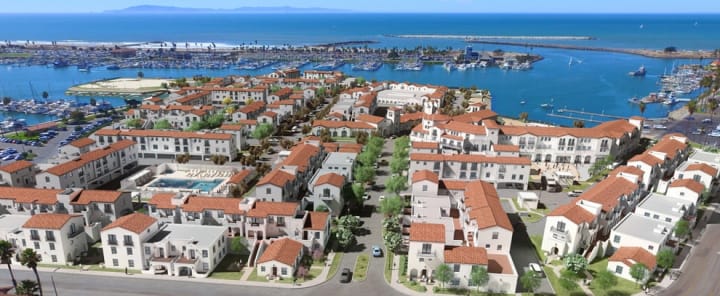 "This is going to be the destination in Ventura," David Kaplan of the development team, tells
GlobeSt.com. "There is no gate or fence. This is going to be a place for the public and for human interaction. There are more than 1,000 people at Portside, and then the community at large will be able to be involved too. I think the synergy is going to be great when it is all finished. This will have a great communal focus."
The project has been two decades in the making, overcoming several entitlement issues that came with its portside location. Once completed, it will include 270 apartment homes, 30 live/work units and 22,000 square feet of retail. It is located on 27 acres on the waterfront on Ventura Harbor. "This is the last remaining piece of land in the port district here in Ventura," says Kaplan. "When all is finished it is going to be amazing. It is going to appeal to the lifestyle here, not just with boats, but also to the outdoors people and because of its proximity to so many activities."
The response from prospective renters has been positive, especially considering the January launch. "We have had close to 400 people tour the property and view the units," says Kaplan. "We signed six leases, and we have already had four people move onto the site. In our first tours, people are coming from around Southern California. We have had people sign leases from Pasadena and Newport Beach. We aren't only drawing from Ventura County. We are drawing from all over the place."
Kaplan expects leasing activity to pick-up as they hit more construction milestones and closer to the end of the first quarter. "The prime leasing time is middle of March to middle of October," says Kaplan. "Right now, we see the momentum picking up, and we feel like we are going to have a good response to the first 56 units."
Next month, the developer will deliver three more buildings for a total of nearly 100 units available for lease.